October '14. I have had a monthly gig with Davis-Moore Lincoln auto dealership in Wichita, KS voicing their radio, tv, hold message and after hours message. You can hear my voice at 316.928.7330. I have done various voice over projects from my professional in-home recording studio and have signed up with a new voice over agent in Wisconsin (please see contact page). I continually go back and forth to Santa Monica, CA to maintain my entertainment business contacts.
March '08. Where has the time gone? This past year of 2007, I was back in LA twice, one month at a time. While there, I was maintaining all my contacts, working on some deals and letting my Commercial agent send me out on auditions.
It's June '06. The director Lisa Sanow from "Gone Postal" is working on her first feature film "Putnam County" starring Kevin Bacon. I may possibly be her PA along with a small role. I just finished a voice over job once again with the East Valley Community Health Center in West Covina, CA.
Gone Postal, a short romantic comedy, where I play the daughter Kate and where love gets the stamp of approval is hitting the film festival circuit. A feature film has is now in the works for the director Lisa Sanow, and I will be squeezed in somewhere with my energetic presence.


"Gone Postal" will be screened at the Washington DC International Film Festival in March. See www.DCIFF.org

"Gone Postal" will be screened at The Garden State Film Festival in Asbury Park, New Jersey in April. See www.GSFF.org

Read more on the Video Clip section of this site.

My film Con Games is now available on Netflix. It is still being sold all over the world and wouldn't it be fun to see me talking in different languages?

After the past couple of years, my bible radio project has been completed. It may be purchased at www.Amazon.com. It is titled REMIXED: The Greatest Bible Stories Ever Told! Volume 1. The director Darian Sewell is focused on getting them into Christian Bookstores across the U.S. and then eventually into the Wal-Marts. I play the Narrator and many other roles. I t is very well done and very entertaining for both children and adults.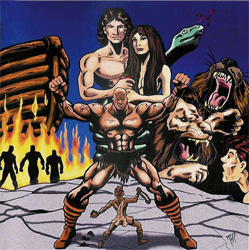 I did two voice over projects "What a Wonderful World" for the Citrus Valley Health Foundation and "Building Healthier Communities Together" for the East Valley Community Health Center.